It has more than 10 sets of international advanced printing equipment such as brand-new Heidelberg 8-color polishing UV printing machine, 71, 61 and 51 Heidelberg printing machine, as well as a series of complete post-processing equipment such as automatic bronzing machine, full-clean automatic die cutting machine, water-based automatic laminating machine, full-automatic polishing and polishing machine, full-clean automatic pasting machine, Pola high-speed computer paper cutting machine, automatic folding machine, carton production line, etc, it also has many advanced automatic production lines for hand-held bags, and a complete set of non-woven hand-held bag laminating and bag-making equipment.
Description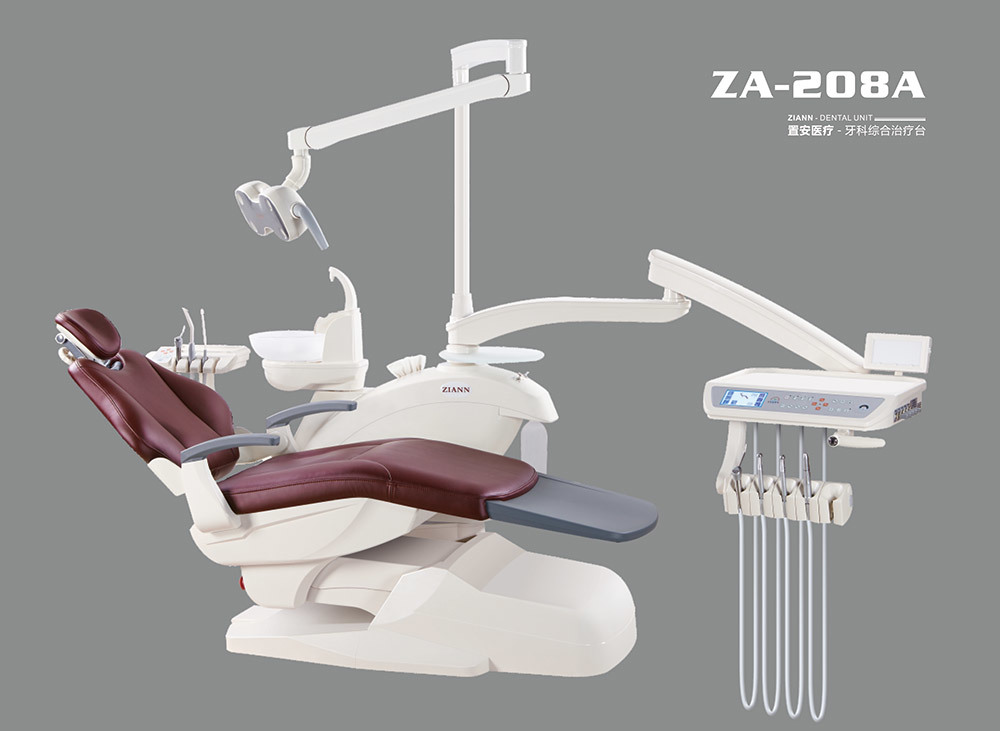 Configuration:
1.90

degree

rotating

glass

spittoon

1set
2.24V

DC

motor

chair

1set

3

LED

operation

light

1set

4

Down mounted instrument tray

1set

5

3-way syringe (tray)hot water

1set

6

3-way syringe (asistant tray)cold water

1set

7

main control systerm1

1set
8.strong suction tube
1pcs
9.weak suction tube
1pcs

10

movable led viwer

1set

11

water purification systerm

1set

12

air brake instrument tray

1set

13

urgency safety switch on/off

1set

14.protective mat of instrument tray
1set

15

external

box

(or

built-in

box)

1set

16.mulitifuction foot controller
1set

17.keypress function for splitting
1set

18.control box with main switch (water, air ,power)
1set

19.operation status display
1set

20.9 memories
1set

21.lucury dentist stool
1set

22.glass plate
1set

23.movable cabinet
1set

24.compensating chair frame
1set

25.the 3rd generation interal chair frame with improved compensation function
1set

26.luxury micro-fiber enviroment leather
1set

27.cast alumium cabinet
1set

28.water one way valve (anti-backflow function)
1set
Technical parameters
1, ZA-208A dental unit
1.1, the minimum chair position is less than 430mm, and the maximum chair position is less than 720mm;
Chair load 135kg (without treatment machine);
Chair lifting speed is more than 15mms, and is very stable;
Cushion inclined angle is less than or equal to 10 degree;
Back 0 degrees to 70 degrees.
1.2, the headrest can be adjusted, head extension length of less than 120mm, head tilt angle of 20 degrees, tilt angle of 40 degrees
1.3, noise less than 45 decibels, the motor rotates with mute DC motor, ensure the safe use of the hospital.
1.4, the machine has a hand control and foot control four directions chair mode of operation, with the microcomputer control system, a reset and PLC (programmable controller: according to user requirements and to control the circuit with programming logic function).
1.5, the machine is handsome, and conforms to the principles of human function, European style modeling,.PU leather pad with artificial leather, seamless compression molding; or choose super fiber environmental protection: soft, wear-resistant, bright colors
1.6, the power supply voltage: a.c.100V110V220V230V-50HZ60HZ
Motor voltage: d.c24V
Source pressure: 0.2MPa ~ 0.4MPa
Air pressure: 0.5MPa ~ 0.8MPa
2, therapeutic machine
2.1, the whole computer control, plane operation switch panel, convenient for doctors to observe and operate, and also not easy to cause wrong operation
2.1.1 chair position control: rise, fall, back, forward, reset and PLC function
2.1.2 shadowless lamp control: move the control switch. Shadowless lamp light intensity
2.1.3 water heater control: point action, open, close
2.1.4 mouthwash feed water control: inching operation, opening and closing, quantitative feed water setting function and automatic feed water supply function
2.1.5: move the spittoon flushing control operation, and automatic timing closing function, closing time can be set.
2.1.6 low voltage watch lamp control: pull, operate, turn on, turn off
2.2, instrument tray
(two sets of four holes or two holes) standard high-speed mobile phone.
(a set of four holes or two holes) standard low mobile phone (including straight, curved mobile phone).
Configuration: a three gun. (the gun head and the shell can be separated quickly, high temperature sterilization).
Configuration easy cleaning instrument plate and a set of view lamp.
Operating table state LCD display, display water heating, flushing water supply, oral lamp and chair and other working conditions.
Water regulating valve is located in the instrument right, bring convenience for doctors working in the process.
2.3, the assistant side
2.3.1 a strong suction, a weak suction
2.3.2 saliva suction tube can easily remove cleaning and disinfection.
2.3.3 is equipped with a set of three guns. (spray gun and shell can be separated quickly and can be sterilized at high temperature)
2.3.4 provided by nurses the cupping, water supply, heating and position control.
2.4, LED induction oral cold light
Oral cold light can infrared induction switch control stepless dimming switch
Debuggable stepless gear, low than 8000Lx, more than 20000Lx grade,
Color 6000-6500K.
2.5, glass spittoon
2.5.1 easy to clean, easy to disinfect, removable
The water velocity is greater than or equal to 4.5L min. 2.5.2 spittoon
2.6 configuration debugging a doctor chair, height adjustable, flexible movement.
Dr. 2.6.1 chair lift range 130mm.
2.6.2 doctor chair maximum load is 135kg.
2.6.3 with lumbar adjustment, to slightly long time work

Spare parts
(1) 24V silent DC motor with little noise and reliable operation
(2) mobile phone silica gel PVC tube and bassoon, durable and not aging, hard hair
(3) chair surface, PU material, artificial leather, durable and not easy to aging
(4) import six angle diaphragm, durable
(5) electromagnetic valve 24V is safe and reliable, and it is not easy to malfunction
(6) high pressure gas spring is used for a long time without trouble
(7) integral control integrated valve;
(8) physicians and chair Ipomoea casters, reliable and safe use.

Other parameters
(1) (in) can be externally box, reduce the area, easy to clean.
(2) ex factory strictly according to GB requirements, each of the dielectric strength, leakage current, grounding resistance measurement of three safety parameters.
(3) ordinary tap water, gas and power can work normally.
(4) installation area is 2 * 3 square meters.
(5) equipment factory is equipped with: manual, packing list, warranty card and responsible for the installation.
Product Consulting
Please fill in the form information and we will contact you as soon as possible.